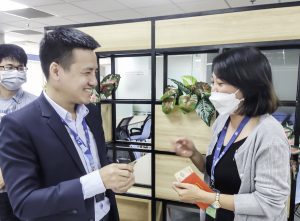 In the 7th February, SPLUS-SOFTWARE company has hold the new year meeting with the participation of all members. It's the meaningful meeting in which, everyone not only connects but also exchanges and deliveries the best wishes. Those activities have been held at such a warm and sincere atmosphere. During the meeting, Mr. Nguyen Thanh Son – President of SPLUS-SOFTWARE sent best wishes to all members of SPLUS-SOFTWARE.
Mr. Nguyen Thanh Son wishes the company will complete its business goals, continue to maintain a fast growth rate of over 50% a year, employees of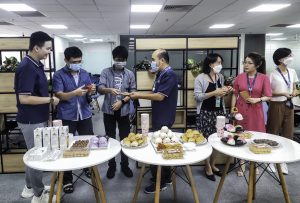 the company will have more opportunities for promotion as well as more opportunities working in Japan, have the opportunity to increase income.
With the desire to bring good luck to all employees, the company's leadership gives lucky money to the brothers and sisters present at the office. Along with that, the Board of Directors of SPLUS-SOFTWARE also lifted the spring break, wishing SPLUS-SOFTWARE to enter the new year to be an extremely successful year, fulfilling the set goals.
The core elements which determine the solidarity and prosperity of SPLUS-SOFTWARE are cohesion, consensus, sharing and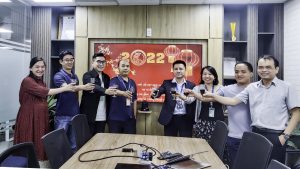 comprehension. Besides, in this meeting, the leadership also concentrated on the partial problems and directions in 2022. Those things are the promotion fo
r SPLUS-SOFTWARE to maintain the manners and energy to have the upcoming successful year. Also at this activity, CEO summarized the business situation in January 2022 with very good results, completing both sales and profit goals, growing 34% compared to the same period in 2021
It's the positive signal which forecasts the SPLUS-SOFTWARE's growth and development. Base on those things, SPLUS-SOFTWARE believes the stronger development in the upcoming time. Thanks to your solidarity, concensus and responsibility, SPLUS-SOFTWARE dares to compete the hindrance, and reach success. Let's look forward and hope for the SPLUS-SOFTWARE's transformationin 2022!